1973 Porsche 914 2.0 – Alaska Blue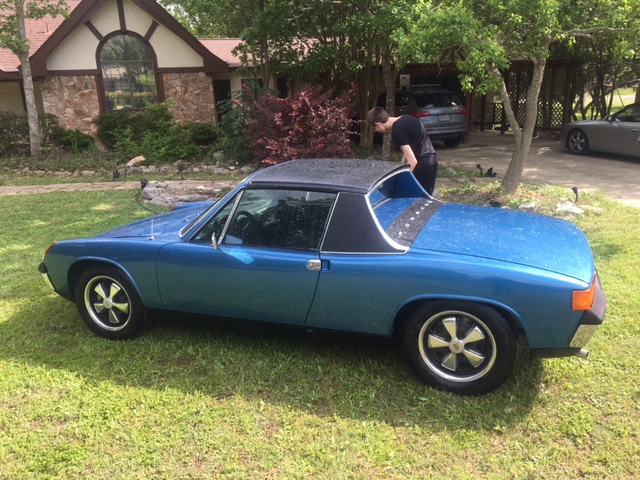 Far Alaska!  This 1973 Alaska Blue 914 is a factory "appearance group" model, with the desirable 2.0 Engine.  The car has factory sway bars, and factory chrome bumpers.  The car has the optional corduroy cloth seats, and they are redone according to the original specifications.
Painted in the original Alaska blue, which was a special order color for 1973.   Arguably one of the best color combos, a deep metallic blue with the aluminum trim.
The car has undergone extensive restoration, and is nearing completion.  This car has undergone a 5-lug conversion, and is equipped with a new set of Maxilite Fuchs wheels (which are TÜV approved, so they meet the highest German safety standards).  Subtle backdates are included with this car:  The front bumper was rechromed without the rubber tits, giving it a cleaner, 914-6 look.  The door sills are aluminum, along with a few other tasteful backdates that enhance the car's beauty and performance.
Build Details:
Chassis restored and painted top and bottom
Engine completely rebuilt – New 96mm Pistons, cylinders, new main, rod, and cam bearings
Original Fuel Injection system refreshed with new fuel line, vacuum lines, and clamps
Oil Galley Plugs Taped and threaded
Cylinder head work performed by FAT performance.  Includes full valve job with new valves.  Heads CC'd to 59 cc.
Compression Ratio: 8.2:1
Bore/Stroke:  96mm/71mm
Deck Height:  .061 inches
Displacement:  2056 cc
New KYB rear shocks
Interior completely redone, with new carpet, new seat upholstery, and dash is an original dash top in very good condition
Gauges lit by LED lights
New Momo competition steering wheel
Pedal Cluster rebuilt with bronze busings, new gas pedal.
Brakes are completely rebuilt:  New Ate (original supplier) Master Cylinder, rebuilt plated brake calipers from PMB Performance, new brake lines, and brake cables.
Complete paint job, with high gloss, basecoat, clearcoat
New Body Seals
New Windshield
5-lug conversion
Set of new aluminum Maxilite 15×6 Fuchs
Suspension refreshed:  new sway bar bushings, new wheel bearings
Backdated front bumper – small rubber tits removed, and bumper rechromed
New speedometer cable
Serious inquiries only
1971 Tangerine Orange 914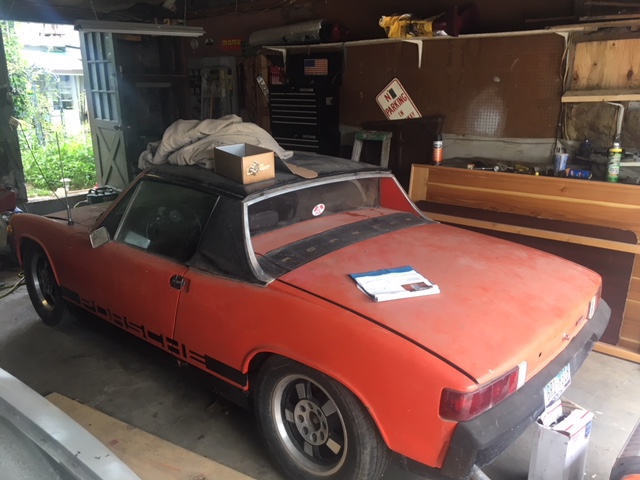 This Porsche 914 is an early car, a 1971 manufactured in late 1970.   It is however, equipped with the more desirable, 2.0 engine from the later model higher performance cars.  This car needs a restoration to make perfect, but could be driven as-is with a little love and care.  The engine is currently not running, and will most likely require a rebuild.  This would make a great platform for a 914-6 conversion, or drive with the 2.0 power plant.  Tangerine Orange is a great color for this car!  $4,500
1973 Zambezi Green 1.7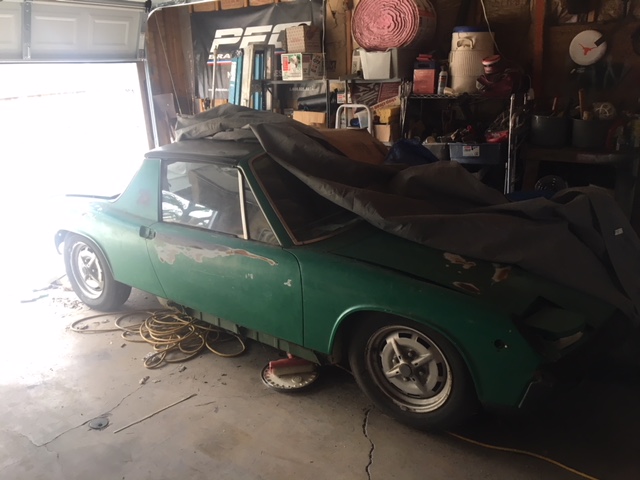 This car was a great car until the previous owner allowed it to sit outside without the top.  The floor boards are completely rusted and will need replacement.  $2,000